Diary
26/5/15 : 100 albums in 2015 part 2
So, one of my new year resolutions for 2015 is to listen to 100 albums that I'd not listened to before... of various styles, some recommended, some randomly found. Here are the next 20!
11. Mogwai - Rave Tapes I've been a big Mogwai fan for ages, but hadn't got round to buying their latest album until now. I'll admit to becoming increasingly less excited about their new material, but they do always try something different, which is great to see. And this album (on first listen) is a good one... not too much singing (good!), the addition of some dirty synth basslines (works well!), some really rocky bits... it is all a bit soundscape-y maybe, and I'm not sure any of the riffs have stuck in my head yet, but given a few more listens hopefully a few faves will emerge... I love Come On Die Young so much, but there would be no point in Mogwai just making that same album over and over again.
12. Tindersticks - Simple Pleasure This is nice - great vocals, a quite soulful to the whole thing, but pop too. This is their fourth album, released in 1999. The organ splashed throughout is nice to hear too (as an organ player myself). But the main appeal for me is the voice of singer Stuart Staples, I love it, even though on track two 'If You're Looking For A Way Out' it does make me slightly (slightly!) think of Cartman from South Park ;-)
13. The Flaming Lips - Yoshimi Battles The Pink Robots Another band I think are great but of whom I'd not listened to an album all the way through before. When I saw them at a festival once, singer Wayne had hidden tubes in his hairline that gradually bled red blood down his face throughout the show. This album is built around the eponymous single, which is clearly the standout track, but it works really well as an album. It's mixed and co-produced by Dave Fridmann who has produced loads of my favourite albums (e.g by Mogwai) and it's pretty inspiring mixing, really lively and bright but solid and chunky! (Sorry, I get excited about this sort of thing! ;-)
14. Major Lazer - Free The Universe I loved 'Pon De Floor' from their previous album (see my Kazoo remix!) and already know and love 'Watch Out For This' from this album. The album seems to get off to a slow start, but Track 4, 'Ja No Partial' get's things going a bit, and then 'Wind Up' is a bit of a winner, as is 'Sweat'. The rest of the album is a little mediocre maybe. The good bits are really good though - and will definitely make it into my DJing playlist (though probably won't influence The Lost Cavalry's music much, don't worry!).
15. Sly And The Family Stone - There's a Riot Goin' On From 1971, and featuring the single 'Family Affair'. This is pretty dark and funky, and (having just read wikipedia!) really interestingly recorded - loads of overdubs were used (on tape of course) leading to really murky vocals and some instruments almost squashed out of the mix. And 'Family Affair' was one of the first hits to use a drum machine.
16. Lou Reed - Transformer Wow, this is an amazing album. I sort of knew it would be... but it really is a good one. Including both 'Walk on the Wild Side' and 'Perfect Day', I listened to it a second time as soon as it finished. The best albums always just inspire me to want to write, and this has certainly had that effect. I'd not realised that Herbie Flowers plays upright bass on 'Walk on the Wild Side', someone I met when I was around 17 and in one of my first bands - we recorded at his studio I think, and sadly, at that age none of us knew who he was.
17. Nat King Cole - Sings The Blues From 1958 on vinyl - Nat King Cole singing some classic-sounding blues songs with a big-band style orchestra, all composed by W. C. Handy. I love listening to these kinds of records, they're so warm and comfortable, and I love the act of listening to vinyl - apart from that part at the end where the needle is looping and popping endlessly until it becomes maddening enough to make you get up and swap the sides!
18. Gustav Holst - The Planets I'm a bit uneducated when it comes to classical music, so here's some very uneducated initial thoughts when hearing The Planets Suite for the first time, as played by the Los Angeles Philharmonic Orchestra and conducted by Leopold Stokowski. It's impressive, some really beautiful delicate moments, and some powerful and grand moments. It does make me think of watching an old Disney film in places, and there's one bit (Jupiter) that is obviously now on an advert. Not that that's bad of course! And I like old Disney films! I'm going to listen to more classical stuff I think...
19. Scott Walker - Scott 4 A name I've known for a long time and another I've been meaning to check out properly. This album from 1969 is (according to wikipedia!) one of this 'strongest works'. It really is - it's so well rounded, full of amazing vocal performances and solid, classic melodies... I can see why it's seen as a such an inspirational album to so many people. I'm certainly going to have to find out more about Scott Walker.
20. Bert Kaempfert - Swing Another old vinyl I had - and another by Bert Kaempfert, the first being 'Dancing In Wonderland', that I used to display while I DJed at my club night 'Wonderland'! This is a collection of nice swing numbers recorded in 1978. 'In The Mood' is the closing track. It's really nice stuff to listen to while getting on with stuff!
21. Paul and Linda McCartney - Ram As recommended to me by Simon Love - this album includes 'Dear Boy', a song we covered for the forthcoming Simon Love album. I really want to like this album so that Simon isn't disappointed in me ;-) So I listened to it twice, and I liked it a lot more the second time around. It's got a really nice home-made, contented feel to it and there are some good songs - some really catchy ones. I find the fake-posh-English vocals on Uncle Albert hard to digest... and a few bits just seem silly without being funny. Ram On I quite like, Smile Away is definitely catchy, Long Haired Lady is nice and The Back Seat Of My Car is top quality. Production-wise, this is great - amazing instrumentation, with lots of what I will call 'sonically interesting moments' (in a good way!) all pieced together collage-style really well. So yeah, I like it, but (like The Beatles) I don't really think I 'get' it yet... it doesn't excite me loads, I just think it's 'ok'... so I'm probably missing something. Here's a far more well-written review: http://pitchfork.com/reviews/albums/16651-ram/
22. The Divine Comedy - Casanova This is great - a top quality album with all the songs basically themed around sex (apart from the last one). I knew the singles (Something For The Weekend and Becoming More Like Alfie) and of course there's the song reworked from the Father Ted theme tune :-) It's just a realy solid album, well written, great lyrics, great vocals and great arrangement. http://open.spotify.com/album/0txgYRjymfL0U28aTEK6Qk
23. Joe Innes And The Cavalcade - The Frighteners! This is a mini-album by a band I know via Folkroom Records, and who we've shared a stage with a fair few times. This is the first time I've listened to them recorded though - and it's brilliant. The songwriting is so strong, and Joe's vocals and lyrics make this a cut above the rest. There's a duet on tracks 4 and 5 (Sweetheart Revolution parts 1 and 2) that works really well - a love song that manages to be sweet and pretty without being too over the top. A few of the songs suffer slightly from a muddy recording or mix, but I probably let that sort of thing bother me more than it would bother most people. This is a fairly old release I believe... I'm looking forward to hearing their newer recordings when they come out.
24. Kings Of Convenience - Quiet Is The New Loud From 2001, this was the debut album by Kings Of Convenience, two guys from Bergen in Norway (where I'm been and played once before - it was a beautiful place!). close harmonies and pretty acoustic guitars, with a bit of drum and trumpet every now and again. It's a really nice record, sad, pretty, melencholic.
25. Shpongle - Museum Of Conciousness This is dancey, trippy, electronic, psychedelic stuff... it has a sort of world music feel to it, but mixed with synths and big basslines, and plenty of psytrance elements. It's not ambient, but it has that sort of side to it too... maybe it's ambient music that's got up for a dance. Anyway, it's top-quality, really nicely produced, and in the right situation (late at might at some festival maybe) would be awesome. I've enjoyed listening to it today a lot, and it's made me miss Boom festival! https://open.spotify.com/album/04T2dbDrecHZBs3WFdFOpt
26. King Creosote and Jon Hopkins - Diamond Mine Two friends recommended this independently, so I had to have a listen! And thanks guys... it's beautiful. So atmospheric, with lovely reverb and field recordings of people and trains. There's a Sigur Ros feel to some of the music, with the piano, pads and pump organ sounds. I love it when I listen to an album and it inspires me - which this one has certainly done. I have made some notes and we'll see if they get put into action for the next Lost Cavalry album! https://open.spotify.com/album/5jdm2D6gY3GQXGmVRTKBZN
27. Broadcast - Work And Non Work This is an early singles collection from Broadcast, an electronic indie band from Birmingham. It has a nice feel and tempo, and some interesting noises going on. It's from 1997 and does feel a bit 90's. Worth a listen, but hasn't changed my life! http://en.wikipedia.org/wiki/Broadcast_(band)
28. Lemonheads - It's A Shame About Ray I'd been looking forward to listening to this one, as I remembered it from back when I was at school - probably because I always thought the title was cool. I wonder if I would have liked it if I had listened back then, as now it just sounds really average and unexciting. 'Rudderless' is the first track that gets a bit more lively, but for most of the album the music and (especially) the vocal just seems to lack a spark of excitement and effort. Maybe that's the point - and maybe I'd have associated with it more while at school! But I was listening to Pearl Jam, Levellers and Nirvana back then who still sound great when I listen to them now. This is the re-issue with the Mrs Robinson cover at the end, which is the highlight of the album for me, and reminds me of dancing in the Indie clubs at uni!
29. Kyoko - Unpure Disco This is a random CD Jonny (drumsticks) gave me. According to what I can find online "Kyoko was a Bristol (UK) band formed by three Ex-Beatnik Filmstars in 1999". It's nice - a home-made feel to it, lots of strummed acoustic guitar, drones and some looped samples, which I especially like the idea of. I'm really glad I put the CD on, it reminds me of music like the album 'A Little Knowledge Is A Dangerous Thing' as recorded by Nick and I (and friends) prior to The Lost Cavalry (an album that I may have to re-release some time!), there's a lovely warm feel to it, as if it was recorded mostly at night in a room where you couldn't make too much noise in case you woke up the neighbours. I found their old bandcamp page, and here it is: http://kyoko-uk.bandcamp.com/
13/2/15 : 100 albums in 2015 part 1
So, one of my new year resolutions for 2015 is to listen to 100 albums that I'd not listened to before... of various styles, some recommended, some randomly found. Here are the first ten!
1. Arab Strap - Elephant Shoe. I've never listened to Arab Strap though I loved Aidan Moffat when I saw him play at a Mogwai gig in Alexandra Palace, and I love the cover of 'Bill Is Dead' they did together. I didn't realise that Arab Strap had drum machines. It's a lot more like Mogwai than I realised it would be - but that's no bad thing of course. It gets a bit samey towards the end maybe, but I really like it and can't believe it's taken me this long to listen to them... A good start to my 100 new albums!
2. Nick Cave And The Bad Seeds - The Boatman's Call. I'm a BIG fan of Nick Cave, he's one of my vocalist and lyricist heroes, but I only discovered him relatively recently, so don't know many of the older albums yet. This one starts with "Into My Arms" (which I did already know), which has to be one of the most beautiful songs ever, I'd eat my own legs to write a song like that. The other track that triggered some inspiring thoughts and made me listen back to the lyrics was "Where Do We Go Now But Nowhere". The whole album is so all about Nick Cave's words of wisdom and the powerful voice, far less instrumentation than most bands I listen to. He's a genius.
3. Stereolab - Mars Audiac Quintet. This CD was given to me by drummer Jonny who played in our friend's Cosines and I can see the influence here, lots of rich warm Farfisa-style synths and repeating riffs. It gets pretty hypnotic and makes you want to tap your foot. This album is from 1994 and is their third album, I don't know if it's considered one of their best or not, but I'd guess it's pretty representative of their style. I'm a fan of the synths but not really a fan of the vocals... I like it, but it doesn't excite me much - Cosines for example take this style and add in more interesting catchy pop bits... listening to this album makes me want to go and listen to Cosines instead ;-) Mark.x
4. The Mountain Goats - The Sunset Tree. As recommended by our bassist, Simon. He says 'Pre 2002 they were ultra lo-fi. One guy and his mates recording a record a year on a tape recorder'. This album isn't as lo-fi, but is still nice and simple. Dilaudid is a pretty powerful track, with all the chopping cellos, but I think I prefer the softer songs on the album - I find it hard to like the singer John Darnielle's voice on 'This Year' and the shoutier numbers. Simon likes the personal and direct nature of the lyrics, and I agree. 'You Or Your Memory' is a great example, and 'Pale Green Things' the closing track is utterly wonderful.
5. Pavement - Slanted and Enchanted. Most of what I know about Pavement was from seeing them play at All Tomorrows Parties, this is the first time I've listened to one of their albums all the way through. Slanted and Enchanted is their first album, released in 1992. There's some really great stuff on here, "Conduit For Sale!" is stuck in my head, and the whole album is refreshingly raw and exciting, you can really picture them in the studio recording it - I think it actually benefits from the drummer not being very good back when they first started! I can really see how Pavement excited people and made people want to start their own bands.
6. Ray Conniff - Ole! This is amazing! It's a vinyl that came within a bunch of them donated to me by a lovely old chap my Mum knew. It's a compilation of mostly instrumental Latin-American and Spanish-styled orchestra pieces, all arranged by Ray Conniff. If I ever get around to making another chilled-out mix some of this is going on it. There's an incredible instrumental version of 'Do You Know The Way To San Jose?' on side one that's calling out for a dancy remix too. Loads of trumpets and a choir singing "Ba daaaaa ba dah!", it's from 1973 but sounds very 60's to me. It's all really uplifting and lively, I love it!
7. Mum. - Finally We Are No One. I already know one of their more recent albums "Sing Along To Songs You Don't Know", but this is their second album from 2002. It's more instrumental, experimental and mellow than "Sing Along...", which is more pop and upbeat. I think I might like this older album more though, it's packed with great ideas and soundscapes - lots of crackles and pops and stompy clicking samples to build up the rhythms, something I've been trying out myself more recently, I'd love to combine these sort of ideas with a strong vocal and pretty guitars. It's a lovely album, I recommend listening to it late at night in a dark room in headphones.
8. Orange Juice - The Esteemed (The Very Best Of). I kinda want to listen to full proper albums rather than 'best of's, but this CD was sitting on my shelf waiting to be heard, another one given to me by Jonny. I expected to love it, but don't really... yet, I suspect it's one that will take a few listens. I'm also very disappointed in myself that I didn't know this was the band Edwyn Collins was famous for, prior to his solo career (I first got to hear of him in 1994 with "A Girl Like You"). I'm definitely going to listen to this album again, as I really think I *should* like it... we'll see!
9. The KutiMangoes - Afro-Fire. This one is thanks to Folkroom's Ben Walker, after he played 'Fire' in between the bands at our gig last weekend (the launch of Folkroom Anthology Three). The band are from Copenhagen and this is their first album, and their only one so far - released in 2014. It's probably music that's best danced to... I'm sat at a desk, but it's infectious, upbeat, jazzy Afro-beat rhythms have made my day a lot more fun! 'Song For Fela' is perfect - a catchy flute hook with drums and percussion it's impossible not to swing your hips to (even if sat at a desk). This is going to be a fun album to play along to at home while practicing improvising Hammond organ too!
10. Roxy Music - Roxy Music. Very classic album that I'd never listened to until now - I only knew Virginia Plain, which always reminds me of the final sketch from 'Big Train'... https://www.youtube.com/watch?v=1tFF2oB4n6M This is a great album, great songwriting and (for me) the right balance of pop and experimental sounds. The lead track 'Re-make/Re-model' is a bit of a tour-de-force, and the first half certainly seems stronger than the second, but maybe my view will change with more listens.
28/12/13 : Round up of 2013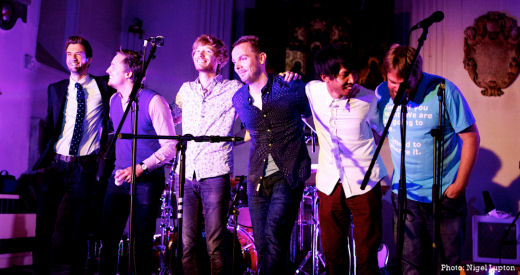 What a big year 2013 has been for us! We've made a massive amount of new friends (Patch And The Giant, Sophie Jamieson, Worry Dolls, Andrew Butler, Lucy Cait, Inti Rowland, Stephen Hallam, Cameron Niven to name just a few), and of course Ben and Stephen at Folkroom Records. And we've gained a new Cavalryman in the form of Simon McIlhinney.
We've played on the main stage at LeeFest, played a load of gigs around London, and released a split 7" vinyl single with Keston Cobblers' Club (limited edition but copies still available!). We also played at the amazing St Pancras Old Church for the release of our debut album Three Cheers For The Undertaker...
And that's the main thing we're proud of in 2013! We're really very pleased with our album and we're glad we worked on it so long to get it just right. If you haven't had a listen yet, please do... you can buy it or stream it for free.
So happy new year! And We hope 2014 turns out to be a great year for us and for you! TLC.x
16/7/13 : LeeFest 2013 main stage

I think we probably earned our spot this year on the LeeFest main stage! We've been at LeeFest every year for four years now - at first as wandering minstrals, then playing on the Wonderland stage, and this year we graduated to a slot opening the main stage on the Saturday - the first band on for most people at the festival. It was a gloriously sunny day and we were ready to entertain!
We were joined by Angie from the brilliant Patch And The Giant on trumpet, and by new Cavalry member Simon, playing ukulele and melodica, the biggest Cavalry lineup so far - 8 of us. We danced and we played for 30 mins, finishing with a triumphant version of 'The Flood'. It was the biggest buzz I've ever had, singing out to a sunny field of happy festival-goers... LeeFest is an amazing festival, run by a group of lovely people, we're really honoured to have been given our first main stage festival show by them, and we hope to be back again some time!
Older >>
<< Newer