News
20/4/10 : Between Two Waves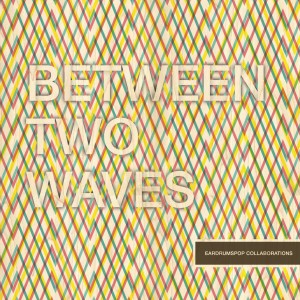 Between Two Waves - a free indie compilation of 38 songs on 3 volumes - is now available, the fourth compilation project from the EardrumsPop label "a non-profit project from music lovers to music lovers." Our track 'Disappear' features on Volume 1 - a collaboration between us and our friends We Walk On Ice.
We're really proud to be a part of this project - recording the song was a lot of fun and it was great to sing with Ida again. Thanks loads to Leena and the Eardrums guys for inviting us and doing all the work for free!
Download the whole compilation for free from here - we are track 8. You can also listen to our track on our myspace page (and soon on last.fm).
13/4/10 : Recording an EP!
We're please to announce that our first EP is on the way! It will contain four tracks - 'Only Forward', 'The Elephant Of Castlebar Hill' and new mixes of 'Oh Sally' and 'Secret Steps' and is released on August 2nd on our own label - Two Six Heave. More details soon!
Also, the 'Between Two Waves' compilation featuring our recording of 'Disappear' is due for release in about a week - it should be worth the wait.
Toby's away in Japan at the moment, but our next gig will be Bank Holiday Monday 3rd May when he's back, for the 'No One Died' all-dayer at The Old Queens Head, Islington.
1/3/10 : Easter weekend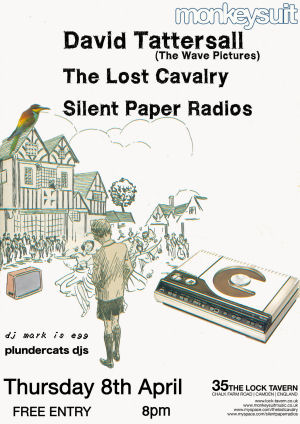 Over Easter weekend we're heading over to 'No' Recording studios in Southend to spend some time recording two new tracks - 'The Elephant Of Castlebar Hill' and 'Only Forward'. As an added bonus, the recording studio is on a farm...
Also over the bank holiday weekend we have a midnight gig at Wonderland Festival's London party and then at the start of April an acoustic gig supporting David Tattersall of The Wave Pictures.
The facebook page for this event can be found here.
1/3/10 : Is it Spring yet?
Our collaboration song with We Walk On Ice for the "Between Two Waves" project from Eardrums Pop is recorded, mixed and mastered and ready for the mid-March release date... can't wait to let you all hear it. It was really good fun to record and great to work with Ida from We Walk On Ice again, she has a beautiful voice.
Lots of good gigs this month for The Lost Cavalry - including White Heat on Tuesday the 16th and The Windmill in Brixton on Thursday the 18th. x
Older >>
<< Newer