News
16/7/12 : Summer 2012
LeeFest was fun, we played a good set and were asked to record two live acoustic sessions too for LeeFest TV and for The 405, we'll let you know when they're online. For The 405's one we played a new song 'Stare Out To Sea'.
We've not got any more gigs planned for a while as after next week Jonny's off to Japan for a while and Oliver and Nick have also got some time away in other countries. We'll be using our time wisely though and finishing off a bunch of new recordings so that by the end of the summer we have a full album of tracks ready, then we can start thinking about how to get it released...
First though, we're back into Soup studios (again!) this week to record a track called 'Stars Are Ripe' with Giles. Soup studios is a bit adictive, it's such a good studio now in it's new location at Limehouse - it's new but it feels like it's been established there for many years.
18/6/12 : LeeFest 2012
We're playing at LeeFest in a couple of week's time on Sat 30th on the Wonderland stage... Details here. Tickets are on sale and not very expensive! It'll be our only gig for a while as we get our album recorded. x
21/5/12 : Knickers - My Baby's Just A Baby
As well as playing in The Lost Cavalry, Jonny and I also play in a band called Knickers, also featuring Dan from Pocketbooks and Simon of legendary Fortuna Pop band The Loves (RIP), and with the wonderful Sarah Eisenfisz on vocals. I play keyboards in the band in the style of someone waving their hands around and hoping for the best. Our first EP is out today on Elefant Records (available on iTunes today, and on limited edition 7" red vinyl very soon) and has already been played a load of times by Marc Riley and some other 6 Music shows.
Here's the brilliant video for the lead EP track 'My Baby's Just A Baby' directed by Laura Clarke...
The EP is available now on iTunes and soon on vinyl from Elefant. Mark.x
1/5/12 : Booked Out - Out Now on DVD and CD
Last year Derek and I wrote the soundtrack to the motion picture, 'Booked Out' - the film is now available to buy on DVD or stream - full details here: www.bookedoutfilm.com. There's also the option to stream the film and be sent a copy of the soundtrack on CD...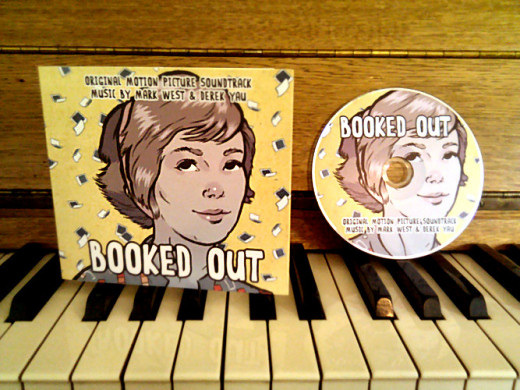 Additionally, the soundtrack is now available on iTunes and places like Amazon mp3. Plus you can still buy it directly from us from our band shop (which is cheaper and more of the money goes to us!). You can also buy the album on CD from our band shop.
Older >>
<< Newer