News
18/6/12 : LeeFest 2012
We're playing at LeeFest in a couple of week's time on Sat 30th on the Wonderland stage... Details here. Tickets are on sale and not very expensive! It'll be our only gig for a while as we get our album recorded. x
21/5/12 : Knickers - My Baby's Just A Baby
As well as playing in The Lost Cavalry, Jonny and I also play in a band called Knickers, also featuring Dan from Pocketbooks and Simon of legendary Fortuna Pop band The Loves (RIP), and with the wonderful Sarah Eisenfisz on vocals. I play keyboards in the band in the style of someone waving their hands around and hoping for the best. Our first EP is out today on Elefant Records (available on iTunes today, and on limited edition 7" red vinyl very soon) and has already been played a load of times by Marc Riley and some other 6 Music shows.
Here's the brilliant video for the lead EP track 'My Baby's Just A Baby' directed by Laura Clarke...
The EP is available now on iTunes and soon on vinyl from Elefant. Mark.x
1/5/12 : Booked Out - Out Now on DVD and CD
Last year Derek and I wrote the soundtrack to the motion picture, 'Booked Out' - the film is now available to buy on DVD or stream - full details here: www.bookedoutfilm.com. There's also the option to stream the film and be sent a copy of the soundtrack on CD...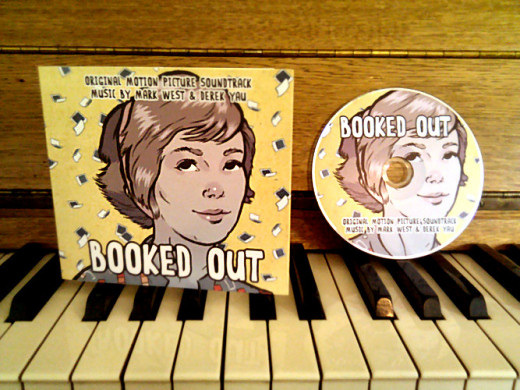 Additionally, the soundtrack is now available on iTunes and places like Amazon mp3. Plus you can still buy it directly from us from our band shop (which is cheaper and more of the money goes to us!). You can also buy the album on CD from our band shop.
18/4/12 : Get Right!
We're writing and recording at the moment, it's all very exciting. I've been trying out recording my vocals at different times of the day and after different things, and I think I might actually sound best when I have a hangover. I will need to carry out more experiments...
We're not doing many gigs at the moment but our next one is at the launch night of a new clubnight in Kings Cross called Get Right! It's free entry and should be a good night... also playing are Slides and Greater Varsa then DJ's until 4... There's even a Facebook event right here.
Over and out, Mark.x
Older >>
<< Newer