News
13/12/11 : Christmas is coming
Christmas is coming so it's time to wheel out this old gem again...
Stop The Cavalry (Jona Lewie cover) by The Lost Cavalry
We've had an amazing year - Jonny joined as our new drummer and we've moved on a lot musically I think, our new songs (a yet unrecorded!) have a feel to them that we're pretty excited about, We'll record them soon as we can in 2012.
It seems that every Christmas someone new joins the band - this year, we're pleased to officially welcome Derek Yau as our new cello player! Derek played guest cello for us on our last EP and was my co-composer on the Booked Out film soundtrack (the film will be released in 2012 by the way). It's good to have him on board!
Enjoy your mince pies! Mark.x
29/11/11 : The Flood - recorded live with Keston Cobblers' Club
Our EP launch for 'Snow City Radio' was an amazing night, thanks so much to everyone who came along and especially to We Walk On Ice and Keston Cobblers' Club for playing, and playing so well. The room was crammed and it was very hot! We finished the night by inviting Keston Cobblers' Club back on stage to play a couple more songs, one of which was our tune 'The Flood' - so here it is with ten of us on stage playing it together - it was quite something!
21/11/11 : Snow City Radio - available now!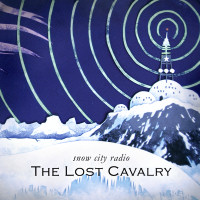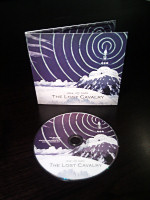 Our second EP 'Snow City Radio' is now available! You can buy it digitally and also on limited edition CD digipak with wonderful arctic artwork once again by Toby Atkins. The tracks on the EP are - Snow City Radio, Desert Tracks, The Tower and The Flood. We hope that you like it! And don't forget, we're playing a special launch week gig at St Margarets House, Bethnal Green on Friday with Keston Cobblers' Club and We Walk On Ice.
"This is indie folk at its finest... Uplifting, joyous and rather wonderful." Shout 4 Music #1 Download of the Week
Q Track Of The Day - The Tower - Q Magazine web site
The 405 Single Of The Week - Desert Tracks - The 405 reader's poll
"Ganz wunderbar" Schall Grenzen
You can buy the EP on CD from these places:
Directly from the band (including an immediate free mp3 download version) | Rough Trade, London | Norman Records, Leeds | Resident Records, Brighton
And digitally from these places:



or Directly from the band shop
7/11/11 : Snow City Radio - Video
Our brand new video to the brand new track 'Snow City Radio' - the first song on the new 'Snow City Radio' EP, which is out in two weeks time. Thanks loads to Bryan O'Neil for being the patient star of the video. Hope you like it - please if you do, pass on the link to other people who may like it too! Here's the quick link to it: http://youtu.be/oDRI3cG10UY
UPDATE!: I was asked by tech blog Wirefresh to write some words about how I went about making the video - you can read it here: www.wirefresh.com/heres-how-to-make-a-fantastic-professional-music-video-for-under-50-80.
Older >>
<< Newer