News
21/10/11 : The Tower - Red and Cyan video
Here's our song 'The Tower' along to some footage from the short film 'Red & Cyan'. The track will feature on our new EP which is out in exactly one month today! Thanks loads to Jon Cowen and Marcelo Munhoz for the video.
14/10/11 : Snow City Radio EP to be released in November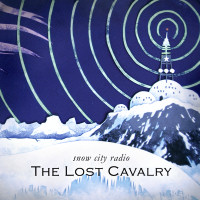 We are please to officially announce that our new EP 'Snow City Radio' will be released on November 21st. It's going to be the Christmas number 1. We've been writing, recording, tweaking it for many months and it's something we're very pleased with. It will be released digitally and also on limited edition CD digipak with wonderful arctic artwork once again by Toby Atkins.
We'll be playing a special launch gig on Friday 25th Nov at the Gallery Cafe, St Margaret's House, Bethnal Green with some very special guests, so keep the date free!
3/10/11 : The Lantern Society
We're going to head over to a wonderful acoustic folk night on Thursday called The Lantern Society and play a few songs... www.facebook.com/pages/The-Lantern-Society. It's at the Betsy Trotwood in Clerkenwell www.thebetsey.com and is entirely acoustic - no microphones or amps. Wonderful stuff!
p.s. We'll also be playing a full acoustic set in Camden Proud Galleries next monday (10th). It's free entry if you say our name on the door and we're on at 10:30pm. x
16/8/11 : Q, Myspace, The Tower and LeeFest
A lot has been happening since the release of our single 'Desert Tracks' - For Folk's Sake said "This is music that shines with grandeur" and we won the reader's poll for Single Of The Week on The 405 web site.
Then Q Magazine's web site featured another of our new tracks 'The Tower' as their exclusive Track Of The Day - and the next day the same track was featured on the front page of MySpace UK (we were next to Elbow - in good company!). 'The Tower' also got a great review on All Around Sound - you can download it now via the Q Magazine web site or wait until it's proper physical release as a part of our next EP in a few months.
Then we went to LeeFest and had a cracking day playing to people firstly as wandering minstrels and then during our set on the Wonderland stage which went down a storm. Photos on the photos page... we also met Keston Cobblers' Club who were amazing, and filmed a new music video for an old song (watch this space!). All in all, we've had a very busy two weeks!
Older >>
<< Newer