News
28/10/09 : The Elephant - In the living room
Here's a little film of us performing our song 'The Elephant' in my old living room in West London...
Thanks to Bryan of BON for filming it.
13/10/09 : Basement Scam and Beyond Retro instore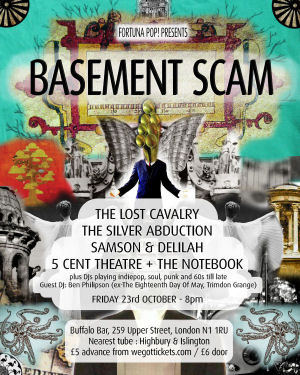 We're playing at the Fortuna Pop! night 'Basement Scam' at the Buffalo Bar, Islington on the 23rd - we'll be on last at 11:30pm, so prepare yourself for a late night! We promise to be finished before the last tube though... Also playing are: The Silver Adbuction + Samson & Delilah + 5 Cent Theatre + The Notebook. Tickets at: www.wegottickets.com
AND! As if that wasn't enough, that same day we'll be squeezing in an acoustic instore at Beyond Retro for their Haloween party - so you can come see us play twice in one day. We'll be playing at about 7:45pm before heading up to the Buffalo Bar. x
5/10/09 : Royal Cafe invites: The Lost Cavalry, performing live and acoustic
A few weeks ago filmmaker Bryan O'Neil recorded us performing some of our songs acoustically in my front room in Ealing, West London. If you're extra observant you may recognise the room from the video I made a while ago for Fanfarlo's 'Outsiders' :-)
Here's a couple of the videos from the session that we recorded especially for Portuguese music site the Royal Cafe, of 'Oh Sally' and 'Secret Steps'... royalcafe.wordpress.com/2009/10/03/royal-cafe-convida-the-lost-cavalry/
Enjoy! More to come at a later date! x
16/9/09 : Recordings, videos and gigs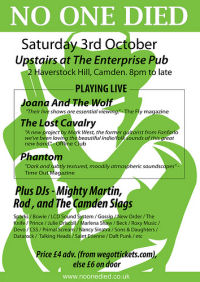 On Saturday 3rd Oct we're playing at Enterprise in Camden, supporting Joana And The Wolf - I think you should be there... You can buy tickets here.
We've been working away like musical devils the last few weeks and are almost ready to present the fruits of our demonic labours... three tracks recorded by ourselves and producer Paul Jones.. "Oh Sally", "Secret Steps" and "Up For Air". They are sounding evil. We've also been filmed playing some songs acoustically by filmmaker Bryan O'Neil recently and these are almost ready too, you'll be able to see our ugly faces soon.
Older >>
<< Newer