News
26/2/13 : Folk And Dagger - March 14th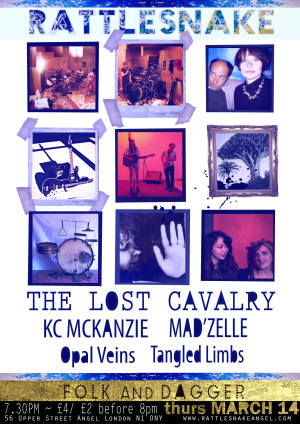 Our next gig will be at Rattlesnake in Angel for Folk & Dagger Facebook event here - we're on last at about 10:15pm. x
6/1/13 : The Heights Of Lola
A little video by our friends Keston Cobblers' Club filmed at the weekend in Kentish Town - it was a great singalong way to start a Saturday!
...And in case anyone missed it... scroll down for a diary entry I wrote updating on what we've been up to recently and where we are with our album!
12/12/12 : Christmas Wrapping - free download
Presenting... 'Christmas Wrapping' - our cover version of the Christmas classic by The Waitresses. Hope you like it! You can download it for free from our bandcamp page: http://thelostcavalry.bandcamp.com/track/christmas-wrapping-the-waitresses-cover
Please share the video on Facebook and Twitter so that more people hear our music! Here's the direct link to it: http://youtu.be/ibkYE6nbGxQ.
Have a happy Christmas everyone! We're off to eat mince pies and add the finishing touches to our album which will finally be out next year - lots of exciting things planned for 2013!
8/11/12 : Winter gigs 2012
We've booked some new gigs - we're excited to play our new songs to you all! Hope you can come...
18/11/2012 - Folk & Dagger, Zigfrid Von Underbelly, Hoxton
25/11/2012 - Patch & The Giant's Sunday Fete, The Boogaloo
14/12/2012 - Christmas Party - Offline Club, The Albert, Brixton
16/01/2013 - Folkroom Records, Queens Head, Kings Cross
Older >>
<< Newer