News
7/8/12 : The Lost Cavalry in the studio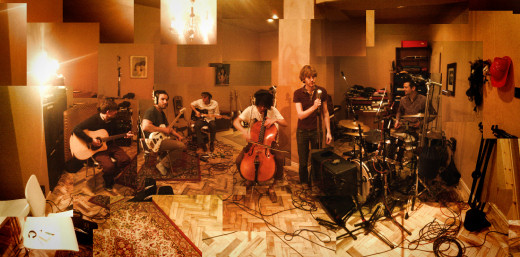 ...album on the way (slowly!).
6/8/12 : Desert Tracks on LeeFestTV
Here's a little video we recorded backstage at LeeFest this year - thanks to the LeeFest guys for having us play.
16/7/12 : Summer 2012
LeeFest was fun, we played a good set and were asked to record two live acoustic sessions too for LeeFest TV and for The 405, we'll let you know when they're online. For The 405's one we played a new song 'Stare Out To Sea'.
We've not got any more gigs planned for a while as after next week Jonny's off to Japan for a while and Oliver and Nick have also got some time away in other countries. We'll be using our time wisely though and finishing off a bunch of new recordings so that by the end of the summer we have a full album of tracks ready, then we can start thinking about how to get it released...
First though, we're back into Soup studios (again!) this week to record a track called 'Stars Are Ripe' with Giles. Soup studios is a bit adictive, it's such a good studio now in it's new location at Limehouse - it's new but it feels like it's been established there for many years.
18/6/12 : LeeFest 2012
We're playing at LeeFest in a couple of week's time on Sat 30th on the Wonderland stage... Details here. Tickets are on sale and not very expensive! It'll be our only gig for a while as we get our album recorded. x
Older >>
<< Newer