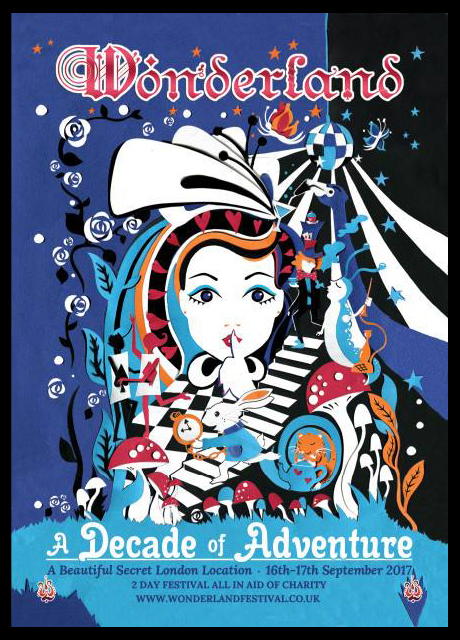 Wonderland at Leefest presents: The Neverland 2017
10-12 August 2017
Secret location south of London

Facebook:
https://www.facebook.com/events/821266054675123/
Wonderland: Wondersands Returns to LeeFest: The Neverland!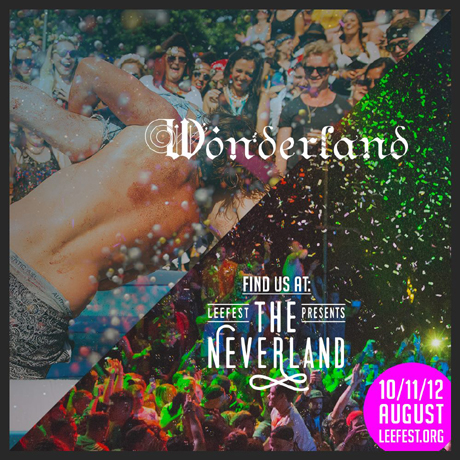 EPIC BEACH PARTIES / SILLY GAMES / GLITTER WRESTLING / PAINT FIGHTIN' / HEADLINE SETS AND SPECIAL GUEST HOSTS... Oxide & Neutrino, Kidnap kid, Jungle Regression Sessions.
Join us for some summer fun... and to get you ready for our Ten Year Festival of course! :-)
Wonderland - A Decade of Adventure - 10 Year Anniversary Festival!
16-17th September 2017
Top secret London location

Facebook:
https://www.facebook.com/events/1282410451836224/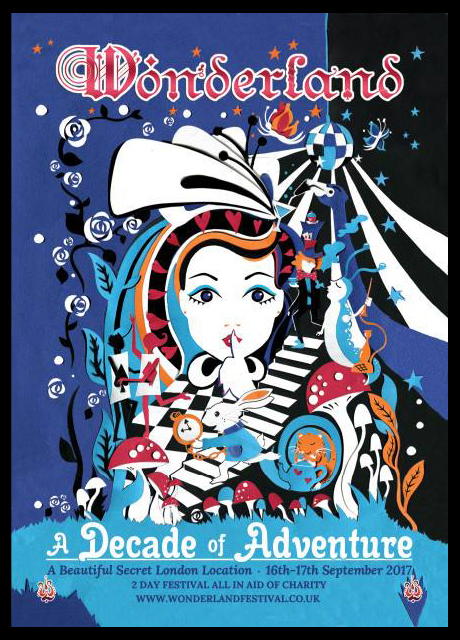 Wonderland Celebrates its TENTH BIRTHDAY! For this super special occasion we are going back to our roots and throwing a TWO DAY FESTIVAL. In a stunningly beautiful location on the edge of London.
Just a hint of what to expect... POOL PARTIES / HOT TUBS / ENCHANTED FOREST RAVES / IMMERSIVE AND INTERACTIVE PERFORMANCES / BURLESQUE, CABARET & CIRCUS SHOWS / LIVE BANDS & DJS / WORKSHOPS / TEA PARTIES / GAMES / CAMPING AND GLAMPING
TICKETS ON SALE NOW! CLICK HERE!
It's the biggest party of your lifetime! It's our 10 year anniversary festival and it's going to be BIG! Join our Facebook event now to be kept in the loop!
More events >>
Wonderland sale!
Click here to buy wonderful Wonderland mugs and posters!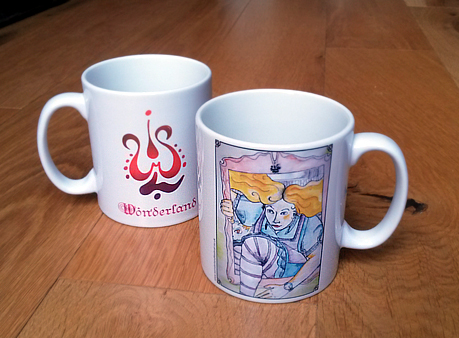 Tweets by @wonderlandparty
Instagram:
> Follow Wonderland on Instagram
The Gambia:
Wonderland is entirely in aid of charity and run by volunteers, we do not make a penny from these events, we do them 'cos we love them and 'cos we love all of you too. All profits go to the Wonder Years Charity, supporting communities in The Gambia. More information here.
Here's a video of our first visit to The Gambia in early 2012 - Video Diary Playlist by The King Of Hearts.
Recent Photos:
Wonderland Cafe at Rumpus in 2017



> View
Wonders Of The Universe - March 2017 - Photos by www.robertwaddingham.com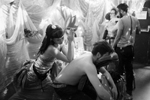 > View
Wonders Of The Universe - March 2017 - Photos by Sameer Ghai Photography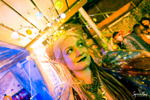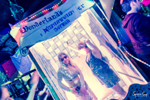 > View
Wonder The Mistletoe - Mini Christmas party at Haunt, December 2016



> View
> Wonderland DJs on Soundcloud
> Wonderland on Facebook
> Brass Taxx - Audio and Visual Synapse Stimulation
> Wonderland on Don't Stay In
> Wonderland on Twitter
Wonderland : nominated for the 2013 Breakspoll International Breakbeat Awards - 'Best Small Event' category!