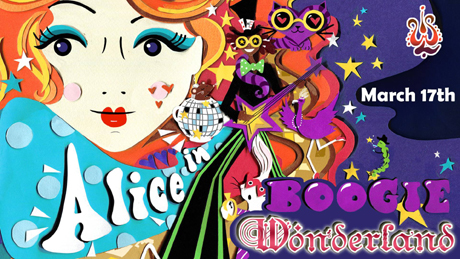 This March, we're getting hippy, trippy, funky and freaky as we tumble down the rabbit hole, through the far out mists of time, and land on a light up dancefloor of free love in.... ALICE IN BOOGIE WONDERLAND!
This ain't your mama's discotheque, darlings! This is a world of Superfreaks, Sex Machines, Macho Men and Bad Girls… all of whom are ready to take you down to Funky Town. So don your most bottom-flattering flares and dust off those five-inch platform boots, because we're about to get groovier than we've ever gotten before. CAN YOU DIG IT?
Note from Alice - While we will clearly be pumping out some disco classics, the night will not be completely overtaken by retro bangers. Wonderland and our incredible line-up of DJ's will bring the usual brand of musical mish-mashing to the mix, making sure everyone gets a bit of what they fancy
Featuring: JIMI NEEDLES (LIVE FULL BAND) - THE CAPTAIN FLATCAP BAND - NICE RECORDINGS + SPECIAL GUESTS - DAN DE'LION - ROGER WILKO - MULLIGAN B2B MISTER MAYOR - THE MEYER DANCERS - PIXI - PIXIE PATCH CIRCUS - RETRO LIGHTING FROM LUCYNATION
TICKETS £8 / £10 / £12 / £15 on the door. All profit from Wonderland goes to the Wonder Years Centre of Excellence, supporting communities in the Gambia.